Negotiations weren't my favorite part of conversations. If I saw a product for 20 Eur, I would either pay 20 or walked away. Bargaining was too intimate and vague for me. Until I stumbled upon "Never Split the Difference" by Chriss Voss.
"He who has learned to disagree without being disagreeable has discovered the most valuable secret of negotiation." ― Chris Voss
"Never Split the Difference" is a book on negotitations, written by a former FBI hostage negotiator - Chris Voss. Chris presents stories of high-stakes negotiations with a range of criminals, including bank robbers and terrorists. In this book, he shares principles and strategies one can use to become more persuasive in any situation.
Below is a list of useful list. Though, I urge you to read the book first :)
Book notes taken by Michael Parker (very detailed)
https://github.com/mgp/book-notes/blob/master/never-split-the-difference.markdown
Negotiations cheat sheet created by Yan-David Erlich
https://www.slideshare.net/YanDavidErlich/never-split-the-difference-cheatsheet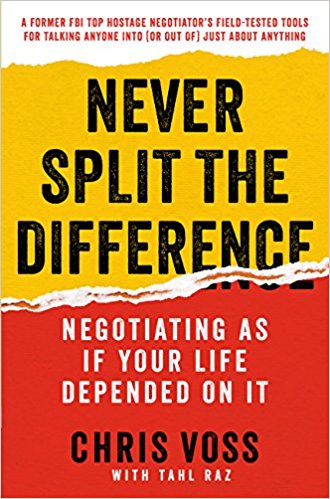 "Never Split the Difference" is my first book on negotiation, and I enjoyed it a bunch. I hope you'll like it too.
Links: