My notes from Introduction to Marketing (part of Business Foundations Specialization) on Coursera.
Week 1 Marketing strategy and Brand Positioning
Market orientations
| Seller's Market | Buyer's Market |
| --- | --- |
| Focus on company / Product-focused marketing | Focus on customer/segment and competition |
| Sell as much as you can | Go after some customers / say no to others |
| Profitability comes from volume | Profitability comes from creating value for selected customers |
| Wide market | Narrow market / harvest from loyalty |
Product orientation
Persuade customer to want what the firm has
Generic products
Competitive advantage is the lowest cost
Profitability driver is the market share
Marketing Orientation
Persuade firm to offer what the customer wants
Differentiated products
Competitive advantage is quality/service/customer knowledge
Profitability driver is customer share/customer loyalty
Experience Orientation
Manage customer's entire experience with the firm
Experiential value
Competitive advantage is transformtaion/customer as co-creator of value
Profitability driver is buss/referrals
Trust Orientation
Prioritize building a relationship of trust and discipline
Genuine value
Competitive advantage is trust
Profitability driver is discipline
Principle of Marketing
3 Principles of Marketing
Principle of Customer Value
Principle of Differentiation
Principle of Segmentation, Targeting, and Positioning
4 P's of Marketing
Product
Place (physical, online)
Promotion (advertising, sales)
Price
Market-Driven Principles
Know your Markets
Customers have the final say
Commit to being first in the markets you serve
Deliver total quality to guarantee customer satisfaction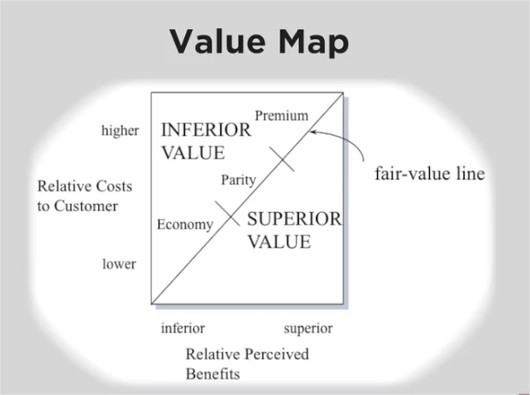 Copyright by Coursera
Strategies for leadership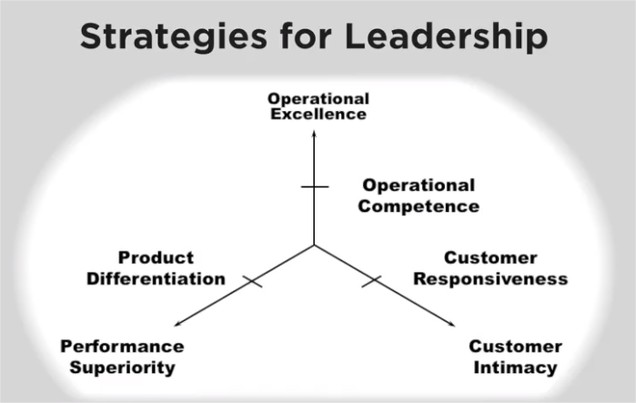 Copyright by Coursera
Operational Excellence - e.g. tends to have more strict hierarchy
Performance Superiority - e.g. innovative R&D company
Customer Intimacy - "yes" culture / consulting
Segmentation and Targeting
Segmentation
Identify variables that allow one to segment the market
Market Segment is the process of dividing a market into distinct subsets
Targeting
Evaluate the attractiveness of each segment and choose a target segment
Positioning
Identify positioning concepts for each target segment, select the best, and communicate it.
Segmentation Methods
Characteristics of the Customer
Benefits Sought (comfort, asthetics)
Systematic, Product-Related Behaviors (purchasing behavior)
Cohort analysis (Boomers, Gen X, Gen Y)
Geographic segmentation
Zip (post code) clustering
Segment Selection Criteria
Segment size
Growth of segment
Value of Segment
Stability
Current company position within segment
Ease of entry into segment
Ease of competitive entry into segment
Number and strength of competitors
Create segment attractiveness study
Brand positioning
What is a Brand?
A trademark
A promise of specific benefits
It is what consumers tell each other
Positioning Statement
Target Segment (For Whom)
Point of Difference (Reason to Buy)
Frame of Reference (Point of Pairity, associations consumer views as necessary to be considered credible)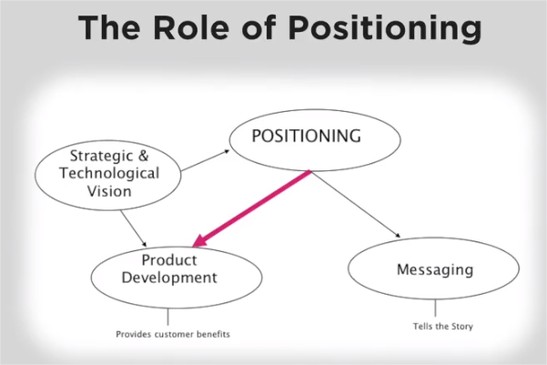 Copyright by Coursera
The Elevator Speech
30 sec elevator speech
Mental map of what your brand is / all associations
Mental map -> Core Brand Values -> Brand Mantra
Short three- to five-work phrases that capture the essence or spirit of the brand positioning and brand values
Designing the Brand Mantra
Used internally to guide decisions - what the brand is and what it is not
Brand function - the nature of the product or service
Descriptive modifier - clarifies service nature
Emotional modifier - how exactly does the brand provide benefits
Brand Mantra Considerations
Communicate (define business boundaries)
Simplify (memorable, short)
Inspire (higher level of meaning)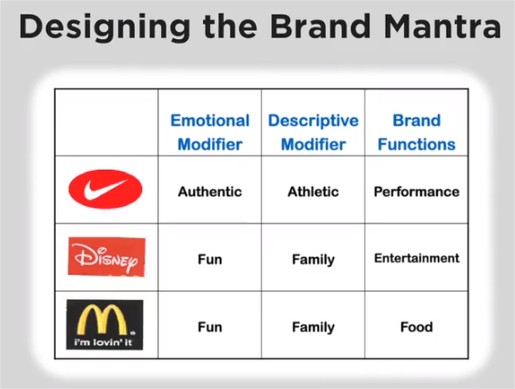 Copyright by Coursera
Experiential Branding
Brand stimulates senses, heart and mind
What do customers get? (sense, feel, think, act, relate)
Connects the company and the brand to the customer's lifestyle
What does the brand stand for?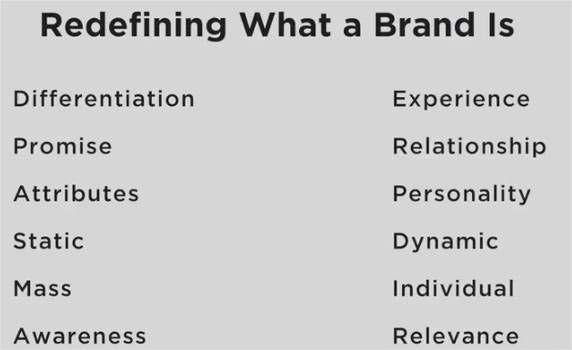 Copyright by Coursera
Experience within the 4P's
Product - build in experiential features
Place - design, fragrance, music
Promotion - noteworthy, brand personality
Price
Characteristics of great brands
Consistency in delivering in their promise
Superior products and processes
Distinctive positioning and experience
Aligned of all commitments
An ability to stay relevant
Week 2 Customer Centricity
Product-Centric Approach
Targets Operational Excellence and Performance Superiority
The goal of the firm is to maximize shareholder value
Maximum profits through volume and cost reductions
Focus on scale
Key performance indicators such as market share
Growth through extyending the product
Product-oriented org structure
The competitive advantage: product expertise
Cracks in the Product-Centric Approach
Tech-enabled product development -> commoditization
Tech-enabled information flow -> smart customers
Tech-enabled delivery -> retail saturation
Globalization
Deregulation
Customers want "end-to-end solutions"
Information systems enable customer-level tracking
Customer-Centric Approach
Three Cheers for Direct Marketing
The individual customer is the unit of analysis
Know who their customers are and what they buy
Aim to determine marketing communication based on past purchases
Constantly determine individual customer value
What is Customer Centricity?
Targets Customer Intimacy
Support selected set of customers and get more customers like them
Maximize long-term financial value
Align company's development/delivery activities round selected customers
Putting valuable customers in the center
Focus on "Which customers will be valuable in the future?"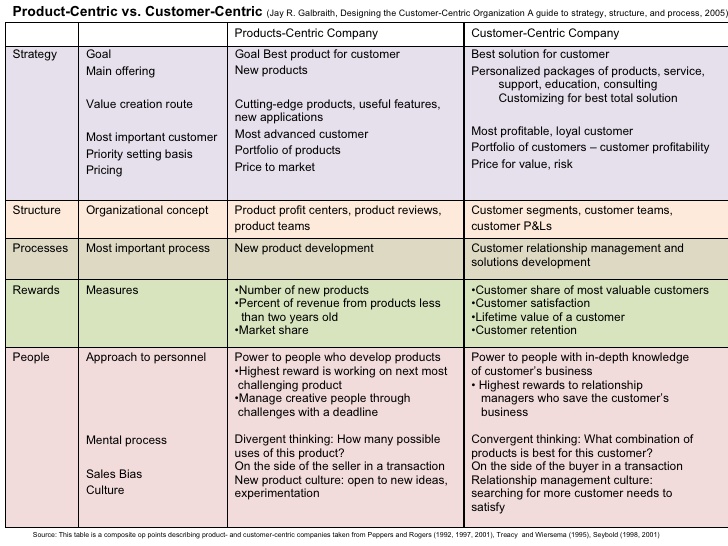 Living in a Customer-Centric World
The goal of the firm is to maximize shareholder value
Distinguish the profitable customers from the less profitable ones
Focus on customer profitability (customer lifetime value CLV) rather than past profits
Success arises through enhanced customer acquisition, retention, and development
Customer-centric organizational structure
The competitive advantage - "relationship expertise" with respect to customers
No company can be 100% customer-centric
You don't want to put "all the eggs in one basket", you should keep less valuable customers, have a healthy balance
Being customer-centric with some customers, product-centric with the rest
Week 3 Go to Market Strategies
Online/offline competition
Delivery times
Uncertainty about quality/fit
Cost of returns
Friction
Search friction (finding better deals take extra time)
Geographic Friction (products available only at specific location)
Internet reduces friction of search and geography
The Long Tail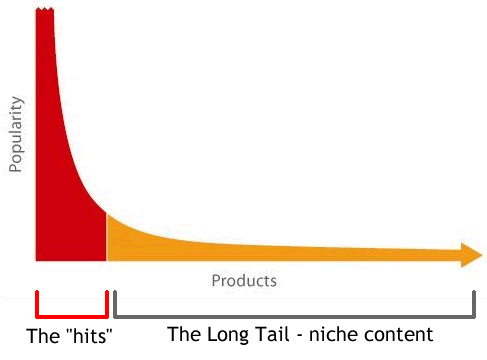 Popular vs niche products
You want to keep popular products available quickly (offline)
Our taste becomes more unique because we get access to more products (long tail), not only the most popular onces
Online offers wide range of selection (long tail)
Researchers find out that people buy more niche products over internet due to search, recommendation systems, reviews
Long tail concept can be applied to geographies (main sales in huge cities, less transaction in smaller towns)
Preference Isolation
Offline stores focus on satisfying needs of majority
Online aggregates people with different interests and a store can reach scale
Customers are more likely to buy online if a local market doesn't have longer sales distribution
How Internet Retailing Startups Grow
Customer acceptance of online retail depends on offline shopping costs (closer, faster, …)
Sales evolution in eCommerce is structured and predictable (transactions happen close to the previous sales due to living close to each other/ talking)
Migrate from "Good" to "Great" requires expansion to niche products (the long tail)
Customers and Digital Marketing
Never pay more to acquire than you plan to capitalize CLV (customer lifetime value) > AC (Acquisition rate)
CLV needs to incorporate RLV (residual lifetime value)
Influence and how information spreads
Six degrees of separation
Influence spreading out from you will not go more than 3 steps
Pricing strategies
By making a recognizable product cheaper you send a message that all other products are at a lower price
Cents in the price mean that a merchast sqeezed all possible places to make it as cheap as possible
When $44 becomes less popular than $49 (discount from $50)
Marginal cost (floor), customer willingness to pay (ceiling), competition drops the ceiling, and what is the amount we need to raise the price from the floor to motivate everyone
Price sensitivity gets affected by ease of comparison, expenditure, shared expenses, price/quality inferences,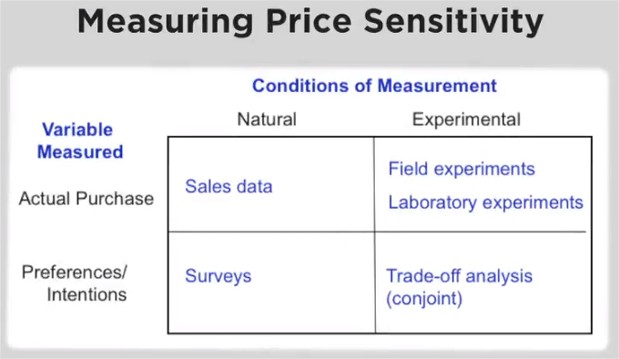 Copyright by Coursera
5Cs and Pricing
Customers (price sensitivity; if I raise price by 1% how much will demand decrease; psychological issues)
Company (consistency in the product line, image, finance)
Collaborators (what are incentives)
Competitors (aggressiveness, willingness to respond, position leader or follower)
Context (market situation)
The 7ms
Market (who should I talk to?)
Message (what should I tell them?)
Mission (what do we intend to achieve?)
Message Design (how should I say it?)
Media Strategy (how do I reach them?)
Money (how much do I need to spend?)
Measurement (was it worth it?)
Week 4 Branding
Brand Messaging & Communication
Perception (The process of developing an interpretation of a stimulus, deciding what a stimulus means)
What customers perceive is what affects their actions
What is perceived is not necessarily what is "true"
People construct perceptions on the fly
We interpret data based on what we know already
Shape, color, visual illusions, proximity bias (close -> similar), similarity (if its close to a quality product, it must be of good quality as well)
Brand is not equal to product
Choosing a brand name
Brand elements (name, logo, symbol, character, packaging, slogan, color)
Choice criteria (memorable, meaningful, appealing, protectable, adaptable, transferable, )
Consistence and integration
Names are the most difficult to change
Effect of brand names
Consumers
Employees
Firm
Investors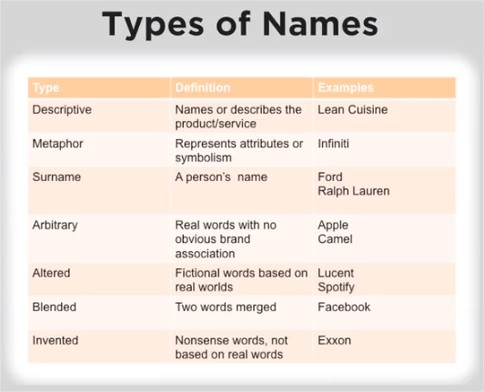 Copyright by Coursera
Picking brand names is China
Coca-Cole (Kekoukele - tasty fun)
Reebok (Rui bu - quick steps)
Colgate (Gao lu jie - superior cleanliness)
Cadillac (Ka di la ke - means nothing)
Brand elements
Rules about color (ultimate goal is to own a color)
Color can also be used to separate product lines
Different viewers experience color differently
Colors can create very strong perceptions (luxury - gold, silver, black, white; gender - blue, pink)
More "universal" axis (doesn't change as much from culture to culture) is arousal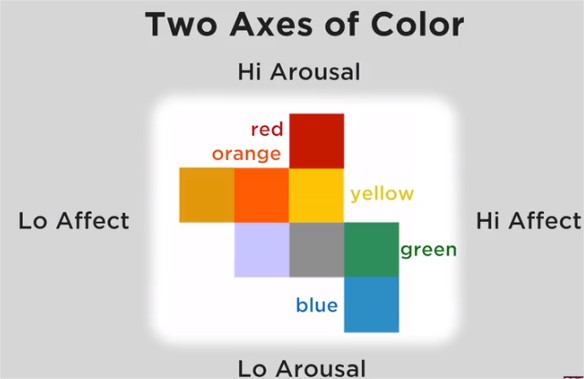 Copyright by Coursera
Rules about color
Red - stimulates the appetite, also love, excitement
Blue - most preffered by men, productive, curbs appetite
Green - tranquility and health, fertility, money, nature
Brown - reliability, boredom, practicality
White - purity, innocence, empty, spacious
Black - evil, death, mourning, slimming
Yellow - bright, gives you energy
Orange - excitement, enthusiasm, caution, warmth
Lavender - calms the nerves, relaxation
Purple - royalty, wealth, success, wisdom
Pink - calming, warm, girl's color
Slogan/tagline
Can be tailored to a positioning strategy
Can remove some the ambiguity associated with brand
Can generate its own equity/emotion
Can reinforce the name or symbol
Easy to say, unique, short
Can be protected and trademarked
Imperative (Just do it)
Descriptive (You're in good hands)
Superlative (The ultimate driving machine)
Provocative (Got milk?)
Clever (Drivers wanted)
Packaging
Package influences perception of a product
Influences not only at the point of purchase, but also at the point of consumption
Aesthetics and function are both critical
Know your distribution channel
Persuasion
An attempt to change belief and attitude
Central Route to Persuasion (when motivation to use is high)
Peripheral Route to Persuasion (when motivation to use is low)
Preipheral cues: classical conditioning, reciprocity (you owe me), consistency (we've always done it that way), social proof (everybody's doing it), liking (love me, love my ideas), authority (just because I say so), scarcity (limited availability)
Q-rating shows how appealing a celebrity is
Celebrities = individuals charged with detailed and powerful meanings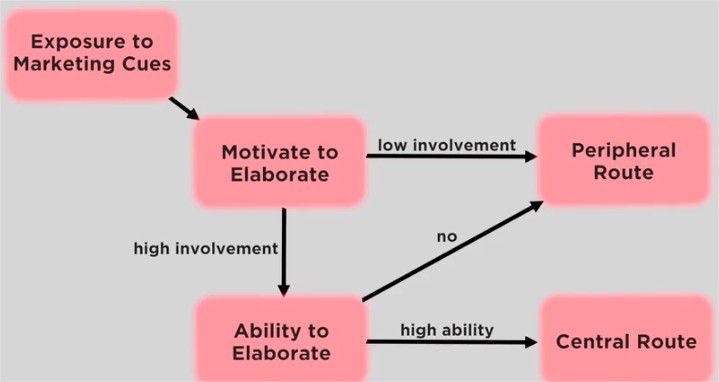 Copyright by Coursera
Repositioning a Brand
Brand must be actively managed over time
Brand should be consistent, otherwise people will rationalize it however they want
Introducing changes over time (evolving brand/trademarks)
Consistency over time is very valuable in building strong brands
5 Reasons for Brand Change
The identity/execution was poorly conceived
The target for the identity/execution is limited
The identity/execution has become out of date
The identity/execution loses its edge, becomes old-fashioned
The identity/execution has just become "tired"